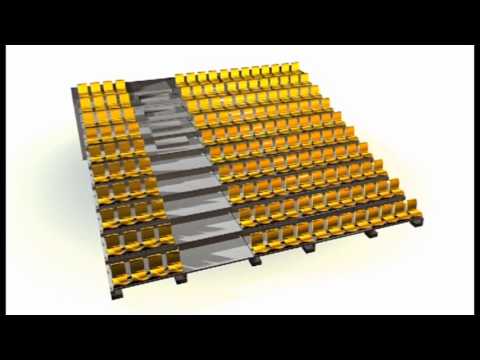 Innovative Venue Solutions
Click on the video for a demonstration on how StackedSeats works.
The Austin Labor Day Triathlon
Click the image for a demonstration on how StackedSeats are assembled.
Dallas Country Club
A clean installation at the Dallas Country Club. Our ambitious team arrives, delivers, assembles and disassembles your grandstands right at your event within hours, leaving you time to worry about other event details.
SMART AND ADAPTABLE SOLUTIONS
Modern-day venues should be able to adjust to evolving market demands and owner objectives. Unfortunately, permanent fixed-in-place grandstand systems lack the ability to fully adapt to these changes, resulting in repetitive costs for rental seating or half-empty stadiums.
At StackedSeats, we realized traditional stadium designs limit owner discretion and venue versatility, and this drove us to build a smarter, more adaptable system. Today, we offer customers an efficient, high-quality grandstand product that responds to the unique needs of every client.
We're revolutionizing yesterday's industry practices to bring you an innovative venue solution system. Our product transforms your once fixed-asset into a superior purpose-built facility, capable of conforming to both your current and future venue needs.